| | |
| --- | --- |
| | CS30 is an SPF 30 Sunscreen Oil for professional use to give immediate protection for the skin from UV-A and UV-B exposure. |
| | CS-30 is a high performance product giving 30 times the skins normal protection against sunlight. |
| | CS30 is water free and perfume free, suitable for all skin types aged 12 years and over. |
| | CS-30 contains a high level of emollients, coco caprylate/caprate, for a non greasy feel on the skin. |
| | CS-30 is for use on any part of the body exposed to the sun. Apply to clean dry skin before exposure to sunlight and re-apply every 2 to 3 hours. |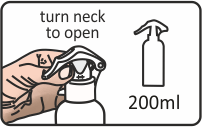 CS-30 is packaged in a 200ml handy size trigger spray for fast application to the skin. The trigger spray mechanism can be locked to stop accidental activation.